Joined

Aug 4, 2021
Threads
Messages
Reaction score

98
Location
Vehicles

Tesla M3, Sprinter, BMW R1250 GSA, Husky TPI, KTM
Just got back - I tried to get all your questions answered
Here you go:
Range - 300 miles with 1000 lb payload (I asked the definition of payload and was told it included the bed, frunk and passenger space.)
Some show more range than 200 - see above
Will there be a range extender - not at this time
Can we start ordering back up power system installs - Not until you order your truck
will the 80A charger also work for the Mach-e - YES
When will the build and _price tool be available- Q4 2021
Target production numbers for 2022 - NOT SAYING
Which trim levels when - FALL 2021
Estimate of first year delivery #'s and date - MID 2022 for early RSVP - NO #'s
Will PRO have same color options as XLT and move - COLOR OPTIONS CURRENTLY ON WEB
can we add 360 camera all cart - NO
When will we see official trim levels - FALL 2021
Same colors as current 150 -NO
Will Fiord/SunRun kits be available in advance - NO
Price for fully loaded platinum - $89K
DC fast charging curve same as Mach E better - BETTER
How long will it charge at 125 - 150 MAX BUT BETTER THAN MACH E
Will there be an 8' bed - MAYBE LATER
No ADM's ? - THEY ARE TRYING TO AVOID THEM
Is the Silver prototype 'ice blue silver' - YES
Confirmation that the Pro extended range is fleet only. - CONFIRMED
60k is the minimum to purchase the extended range - YES
Charging over 200kWh - NO
First Edition model - NO
Range drop when towing - YES
Will the DC-AC inverter panel for the Intelligent Backup Power be a standard part of the Charge Station Pro or an optional add-on to the 80A EVSE included with the Extended Range battery models? - ADD ON
Month that orders start - FALL 2021
Why is Ford refusing to sell the Pro extended range to standard consumers - NO IDEA
Charge Profile - FLATTER THAN MACH-E - 150 MAX FOR NOW
Will there be a propulsion sound - YES
When will order banks open - FALL 2021
Will there be a more off road oriented package available for the Lightning? - NO
Is X-Plan going to be available, for the Lightning, at launch? - NOT SURE YET
Will people with reservations get a chance to experience or even drive the Lightning before ordering? - TEST DRIVE IN SPRING 2022
Is Ford going to take any action to insure dealerships don't charge any dealer markup on ordered Lightnings?
Cloth seats for the Pro - THEY ARE TRYING
Will Blues Clues be available on the XLT or is it exclusive to the Lariat and Platnium? - NOT SURE
Will the twin panel moonroof be available on the XLT? - NO
Can you ask if solar panels are required to use V2G function for battery backup - NOT NEEDED
Other tidbits
- They are trying to keep people placed according to when they paced their orders. Early reservation holders will hopefully place orders late fall or Q4 2021. First deliveries Mid 2022 - may be a little earlier
- 5 to 81 percent in 41 min DC
- 10 min charges up 54 miles
- Test drives next year q2
- Invites to order q4
- If you have a charger already you may get more free kw
- Different levels of Lariet and XLT
- Lariat "Lux" (?) includes larger battery, tow package and other - $10k added?
I came away very impressed - I also have a Rivian RSVP and hope they do something similar soon!!
I reached no to press the RANGE button for you guys at the start of the event. Before they were getting tough!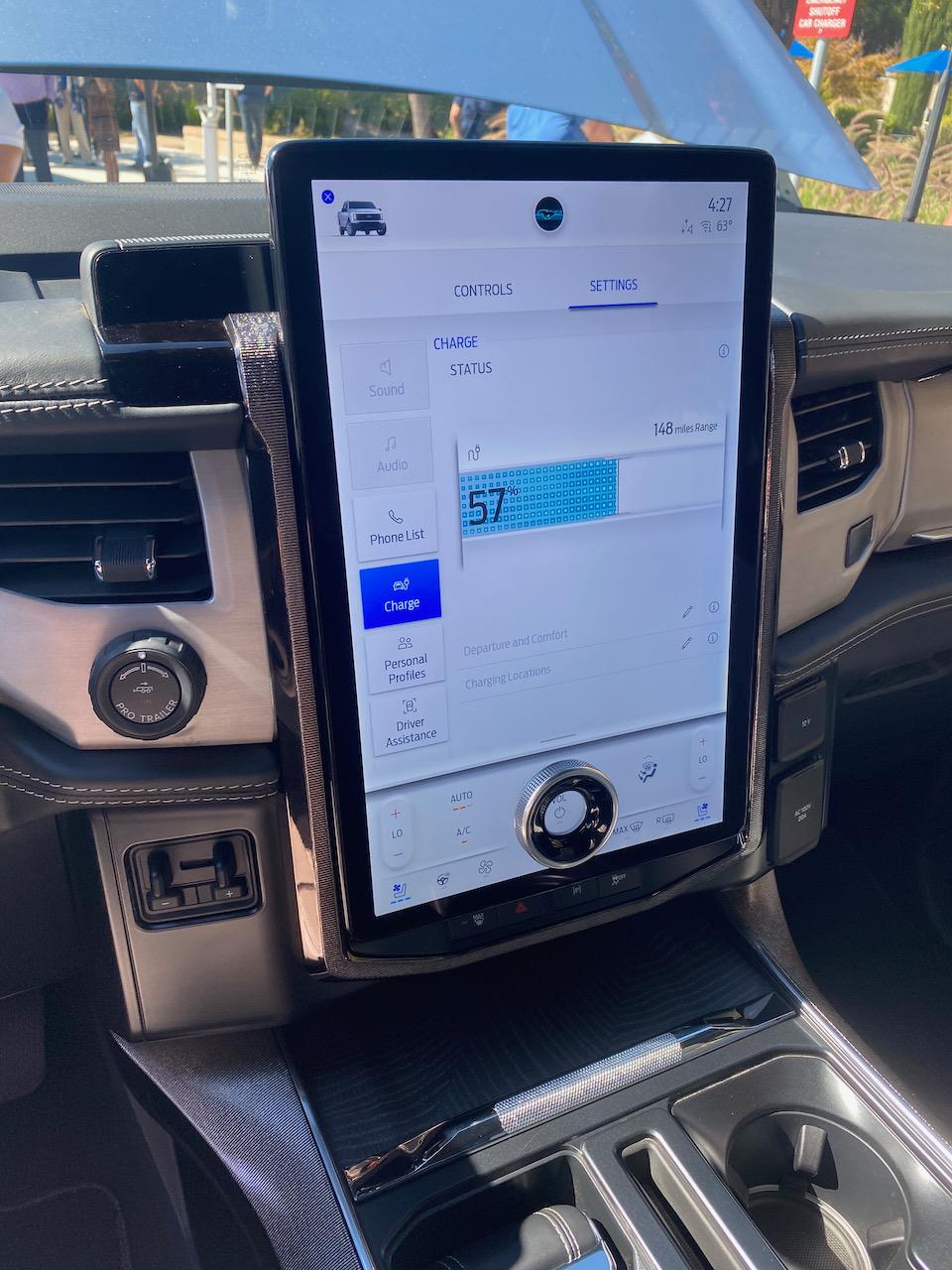 Admin Update:
Some photos from the event by Fast911. This F-150 Lightning was priced at $88,000 and the color was Iced Blue Silver.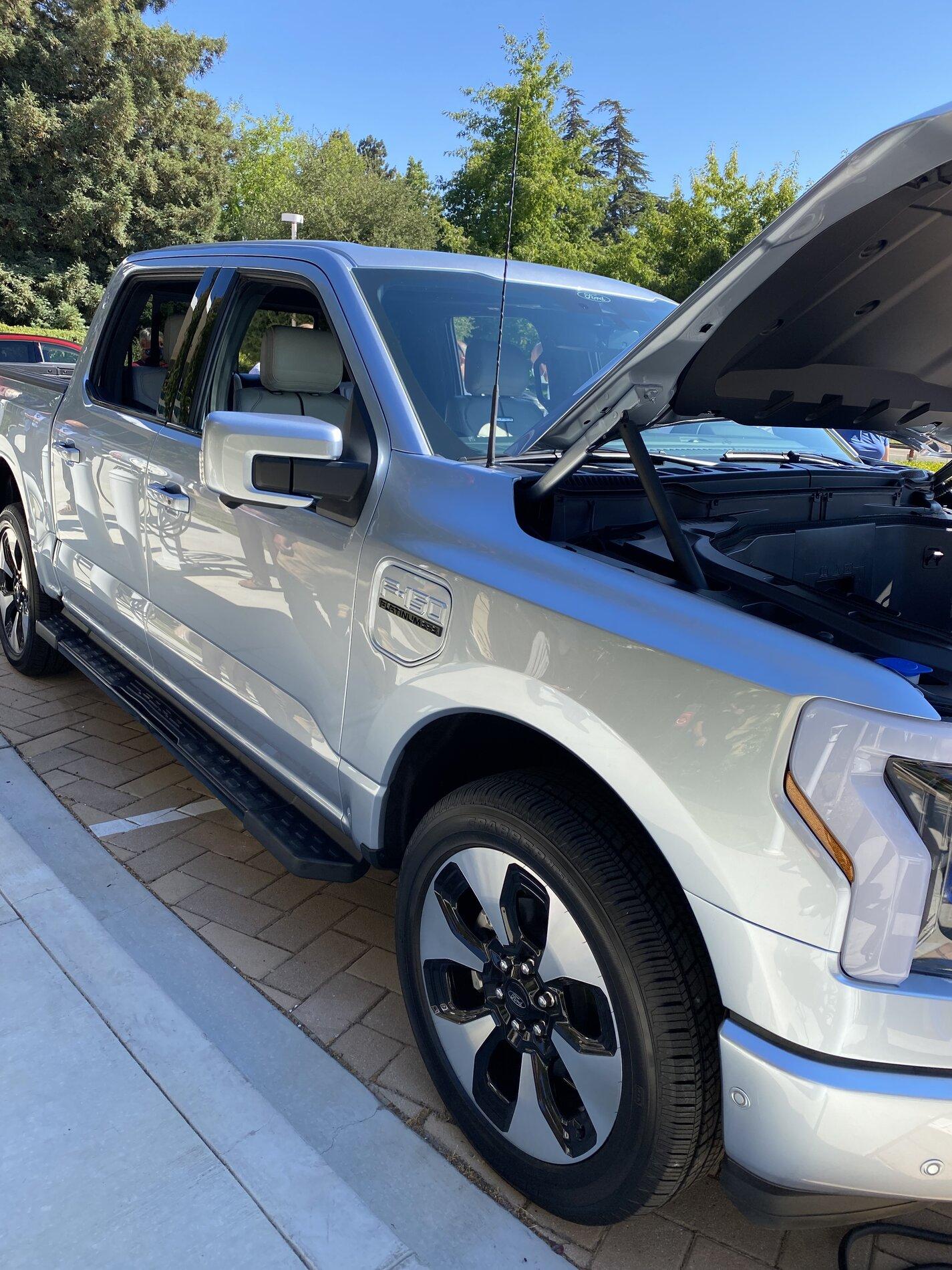 Extra photo by
@Eric56
More pics added:
More pics
Last edited by a moderator: