Well-known member
Gold Sponsor
First Name

Adam
Joined

Feb 15, 2022
Threads
Messages
Reaction score

104
Location
Website
Vehicles

2018 Raptor & 2021 Bronco Outer Banks
Occupation

Drug Dealer of the LED World
So for those who don't follow us on IG, my family and I (Adam) took a vacation from Long Island, NY down to Ormond Beach, FL where I have some family. We decided to take the Lightning over my wife's minivan because it's just a lot more comfortable and... it's a friggin Lightning!
I have a Lariat with the Extended Range battery btw.
STOP 1: NEW CASTLE, DE
We left Sunday (9/21/2022) morning around 10:30am from Long Island. That's NEVER a fun thing to do since we have to deal with Queens, Brooklyn and Staten Island. Believe it or not once you are in NJ traffic isn't bad. We got to our first charging destination at 2:50pm in New Castle, DE. This was at a Wawa Gas Station (gotta love Wawa food/beverages though!).
We charged for about half and hour and put 65kwh in. Then onto our next stop.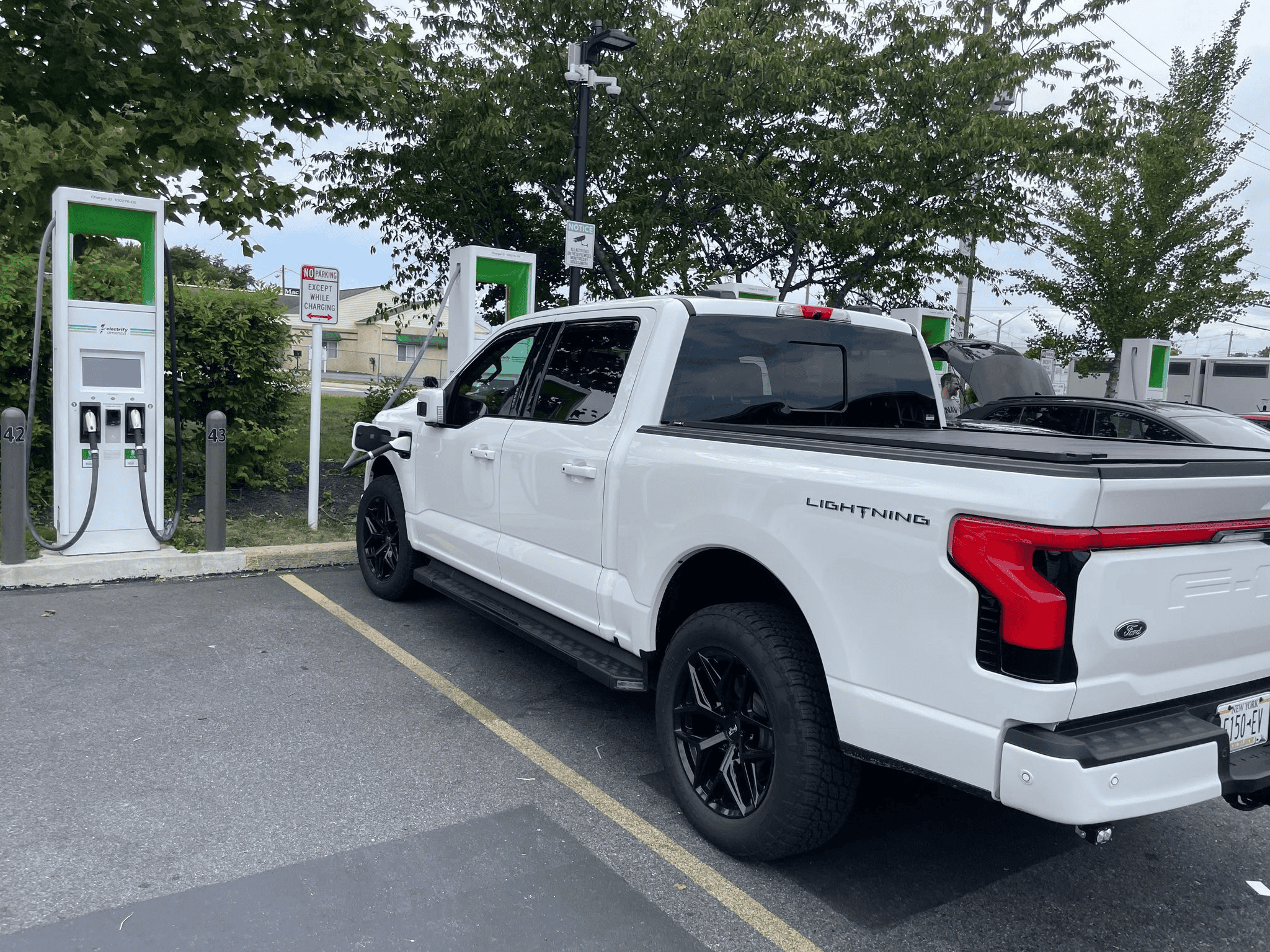 STOP 2: SPRINGFIELD, VA
Ohhh this was by far the worst place to charge. We were headed to a Target which was part of a mall complex. The charging stations were hard to find and very tight to fit into. They had these weird stalls BUT we made it work. We were going to walk around the mall but NOPE. It was dirty and just not a nice place to visit. My wife said the restrooms were terrible as well. We got here around 6:25pm and stayed for about half an hour. Added 59kwh to the battery. You can see what I mean by tight squeeze. The stations were awkward where they had one station that was shared for both sides. There was a smaller station in the rear but that looked to be a 40amp station, so very very slow. Not to mention they wasted no space and had regular spots right next to the EV. Luckily I fit but they had all these ballards protecting the equipment that made it tricky to open my truck's door
STOP 3: RICHMOND, VA
Now onto Walmart. We stopped at a LOT of Walmarts. We got here 2 hours later at 8:35pm. Added 55kwh to the battery to get us to our next destination. I planned my route so that i'd have at least 20% SOC when I got to any charging location. This was to give me a "buffer" in case I had to leave (which was the case actually on a future stop). Nothing exciting here.Just ANOTHER Walmart we stopped at.
STOP 4: ROCKY MOUNT, NC
I think this was my favorite stop honestly. It was at a Sheetz station (gas station). It was empty and late at night (11:25pm). We put 74kwh in because why not. We had time. I took a walk around the lot and just relaxed a bit. It was weird seeing all these people waiting in line for coffee at 11:25pm and they waited about 15 minutes each. Insane!
STOP 5: LUMBERTON, NC
This stop forced me to try 2 chargers. The first one (btw we got here at 1:45am) only let me put in 13kwh before it went slow. Switched stations and then put in 55kwh. Again this was at ANOTHER Walmart. I'm starting to like the Walmart locations because they are usually tucked away but close enough you can walk to the store. They are usually pretty wide open as well
STOP 6: FLORENCE, SC
This would be our last stop for the first leg of our trip. As we were heading to the Columbia, SC area to stop at see some family. We got here at 3:15am. This stop was REALLY just to give us a charge so that once we got to my family's house, I had enough juice to run around and what not. We put in 41kwh here and that was our last stop for the day/night/first leg of the trip
Last edited: